Welcome To MortgagesByCindy.ca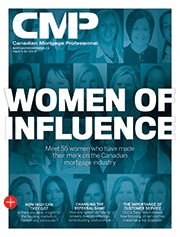 Whether you are a first time home buyer or a seasoned home owner, arranging a mortgage can be complicated and confusing. That's why it's to your advantage to work with a mortgage broker who has years of experience in hammering out mortgage details.
Let me be your mortgage specialist. Finding a mortgage that suits your individual needs is essential, and I understand that. I offer the best possible value in terms of rates and conditions. I guarantee that you will be satisfied, backed up by a written satisfaction guarantee. It's no wonder that I strive to keep my clients as happy as possible!
Effective immediately the new Department of Finance regulations will apply for mortgages that meet the following criteria:
purchase price greater than $500,000
closing date on or after July 1st, 2016, and
application date between Dec 11, 2015 and February 14, 2016
Effective February 15, 2016, the minimum down payment for high ratio insured mortgages will increase from 5% to a tiered scale. For all properties with a lending value up to and including $500,000, the minimum down payment will remain at 5%. For all properties with a lending value greater than $500,000, the minimum down payment will be 5% on the first $500,000 and 10% on the residual portion greater than $500,000.
For example: A property with a purchase price of $675,000 will now require a total down payment of $42,500. 5% of the first $500,000 = $25,000 10% of the remaining $175,000 = $17,500 Please contact me at 416-926-0529 or 416-899-5053 to discuss your personal mortgage inquiry.
Effective January 1st, 2016
Attention First-Time Homebuyers | A Bigger Land Transfer Tax Refund In Ontario
Are you a first-time homebuyer in Ontario? There's good news for you! Those of you with an agreement of purchase and sale that closes after January 1st, 2017 may be eligible for an increased Land Transfer Tax Refund of up to $4,000. This is a hefty increase from the former maximum, which was $2,000.
New Rules, Sticker Rules, as of Jan 1st, 2018.
If you're looking to buy and will have more than 20% down, or if you are considering refinancing, then you might want to do so before January 1, 2018. Why? On October 17, the Office of the Superintendent of Financial Institutions (OSFI) released new guidelines for residential mortgage underwriting at all federally regulated financial institutions. Beginning January 1, 2018, a new "stress test" will be applied to all new conventional mortgages – and not just those mortgages that require mortgage insurance (downpayment or equity of less than 20%).
The so-called "stress test" is designed to protect homeowners should interest rates rise. Lenders will be obligated to qualify all new conventional mortgages at the greater of the Bank of Canada's five-year benchmark rate (currently 4.89%) or the contracted rate plus 2%. So if your contract rate is 3.29%, you will be qualified at 5.29%.
Here's what that might mean for you:
You want to buy a home with more than 20% down. Your payments will always be based on your contract rate so this new rule isn't costing you more. However, the new rule might change how much mortgage you qualify for. If that's the case, you may need to look at a less expensive home, save up for a larger downpayment, or reduce any other debt. Or we can take a look at a variable rate mortgage that lowers your qualifying rate (if the rate plus 2% is less than the benchmark 4.89%) and has the option to convert to a fixed mortgage.
You want to refinance to pay off debt or buy an investment property. Here too, your actual mortgage payment will not be affected. But the new rule could slow you down by making it more difficult to qualify for your refinance. You may need to wait and accumulate more equity, or look at a lower-rate variable mortgage. If that refinance is important to securing your own financial health, get in touch ASAP.
Your mortgage comes up for renewal next year. This more stringent qualifying requirement will not apply to mortgage renewals. If you go shopping for a better deal with a new lender, however, that will require that you re-qualify… and the new rule will kick in for you too. It still is very important that we review your options together.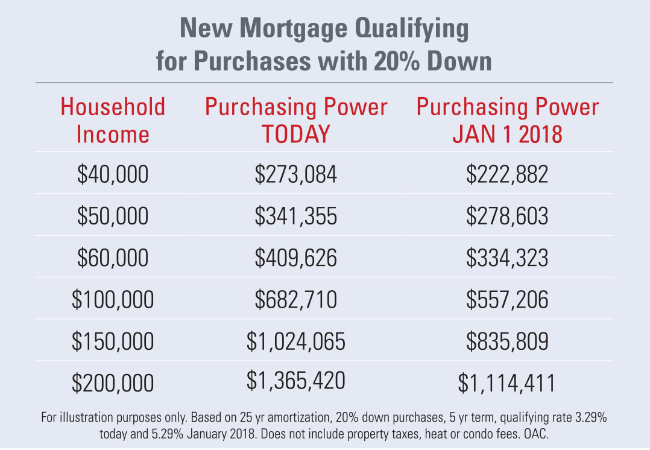 Get in touch now – you have the rest of 2017 to get in under the old rules. Going forward, I'm here to work with you early in the process to make sure you are fully prepared for your purchase or refinance. I also have access to non-federally regulated lenders that do not fall under this new guideline. I'm always here to answer your questions, so feel free to call or email at any time!
Click on the "Talk Now" button to contact me immediately, or click on the "Live Help" button to chat with my office receptionist who is available Monday to Friday from 9 AM to 8 PM.